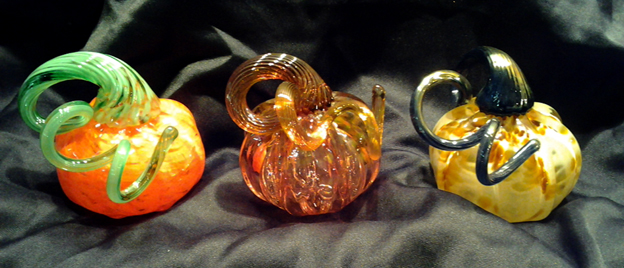 FALL WORKSHOP – HANDBLOWN GLASS PUMPKINS
Fall is on its way and Vetro has a plan. Vetro Glassblowing Studio is now wanting you to help create your very own Handblown Pumpkins. Kids are welcome to assist with the color application! (Great photo op.) We will also have a stock of pumkins for you to purchase if there is no time for a workshop. All can be hand engraved for $10 extra. Workshop highlights are below.
Dates: Friday, October 5 – 4:00pm to 8:00pm and Saturday, October 6 – 10:00am to 6:00pm Important to Note: Pumpkins made Friday can be picked up after 3pm Saturday. Pumpkins made Saturday can be picked up after 3pm Tuesday.
Pricing: Help Make a Handblown Pumpkin – $55 Special free-style hand engraving up to 15 letters – $10 extra (will be paid separately when you arrive)
You select colors from four pre-selected mixes
You apply the colors to the hot molten glass gather
You heat the colors in the 2,000 degree furnace (16+ yrs)
You stay by the artist while he/she blows out your Glass Pumpkin
Allow for approximately 15 min for check-in
Allow for approximately 15 min for color selection and creating your Handblown Pumpkin
$55 per Handblown Pumpkin (plus tax)
Under 18 must be accompanied by a parent or legal guardian
Notes: Kids of all ages welcome to observe; under 18 must be accompanied by an adult.
Watch the video below and see how you can be a part of the "World of Glassblowing"
ONLINE REGISTRATION IS CLOSED.  If you want to create a pumpkin on Sat, Oct 6, please call or come to the gallery. We do have a few more spots available in the afternoon.  "Handblown Pumpkins" are only availableFriday, October 5 – 4:00pm to 8:00pm and Saturday, October 6 – 10:00am to 6:00pm on these days only. Glass art must cool overnight, so you can pick up after 3pm the next studio day.
Additional Information
What to bring/wear to class (Very Important)
All clothing must be cotton
Long pants encouraged but not required
Closed-tipped shoes (i.e. tennis shoes)
Cotton shirt – no billowy sleeves
Hat or headband
Sunglasses
Long hair should be pulled back securely
All alcoholic beverages or illegal substances before and/or during any workshop are strictly prohibited.