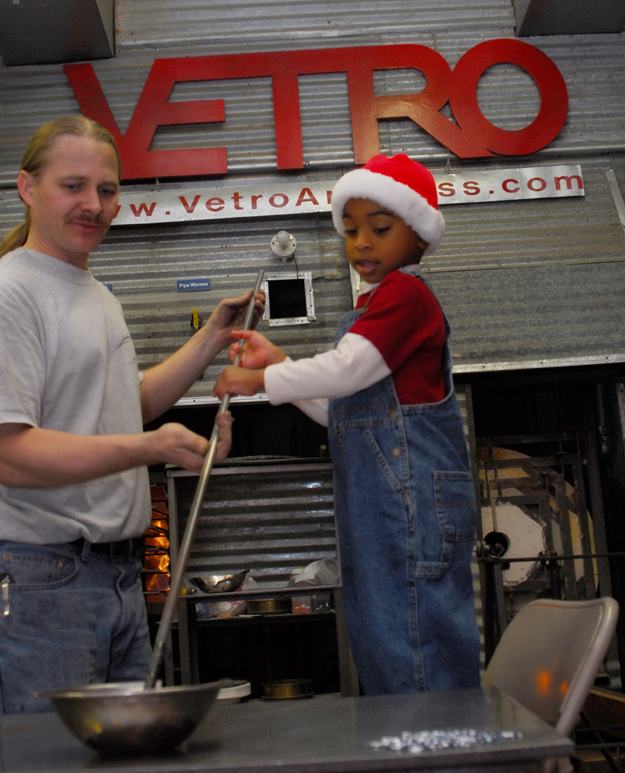 SELECT YOUR COLORS THEN HELP CREATE YOUR OWN HANDBLOWN ORNAMENT!
"TRADITIONAL ORNAMENT MAKING"
For more Holiday fun on the weekends, each guest will have the opportunity to help create his/her own ornament. For just $30 you will be able to:
1) choose from three color mixes 2) help apply those colors yourself 3) watch the artists finish creating your ornament before your very eyes!
* Click Here for Dates and Times for Traditional Ornament Making" *
Your ornament will need about 24 hours to cool to room temperature. You may return on the following business day after 3pm to pick it up or you may elect to conveniently have us ship your ornament to you (additional charge). Ornaments will not be ready before 3pm the following day.
No appointments are necessary or will be taken during scheduled "Traditional Ornament" times. ($30 per ornament)  It is first-come-first-serve only. Reservations are available during other times of the week for groups with a minimum of 25.  Please call the Studio for availability – 817-251-1668.
Anyone under 18 must be accompanied by an adult.
For a bigger color selection and more participation with your ornament's creation, you may be interested in our Extreme Ornament Blowout!
Location: 701 S. Main St.; Studio 103, Historic Downtown Grapevine, Texas (Same parking lot as the Grapevine Vintage Railroad) – 817-251-1668
***Extended Holiday Hours for shopping in the Gallery***
***Click here for a printable information sheet***
Watch the video below and see how you can be a part of the "World of Glassblowing"
PARKING:
Vetro's parking lot becomes a Winter Wonderland  during the month of December due to Grapevine's "North Pole Express".  If you wish to "Help Make Your Own Ornament" or just browse through the Fine Art Glass Gallery for that "One-of-a-Kind Handblown Gift", feel free to park behind the Studio on Hudgins Street, or just across Main Street.
On the weekends during the North Pole Express, a shuttle service will also be available.  Once in Grapevine follow the signs to parking areas.  Free shuttles run continuously from the free parking at the Grapevine Convention Center to the North Pole Express.
Free Parking: Grapevine Library 1209 South Main Street Shuttle drops off at the North Pole Express
Additional parking may also be found at American Locker Group parking lot – 815 S. Main Street
For information on the North Pole Express, feel free to visit Grapevine's website for further information.
---