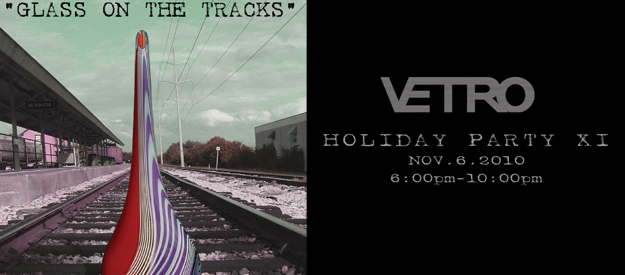 Vetro's annual holiday party is just around the corner. Saturday, November 6th, from 6pm to 10pm, for a $10 cover, you'll enjoy: Fine Art Glass, Live Music by Fate Lions, Wine, Beer, Hors d'ouevres, Raffle for 75 Handblown Ornaments, and the Famous "Truth or Consequences" Auction.

This year, Vetro's David Gappa invites Fate Lions to the stage.  Fate Lions was founded in 2007 by songwriter and front man, Jason Manriquez. And, though the band has seen a few incarnations, it has ultimately evolved into a quintet of talented pop, rock and folk musicians culled from the North Texas independent music community. The result is a lush, bright and melodic pop group that takes its listeners through landscapes of 80s riffs and 60s fillers, while keeping its feet planted firmly in the present through brilliant tongue-in-cheek lyrics and original toe-tapping melodies. Check out their performance at KXT Studios here.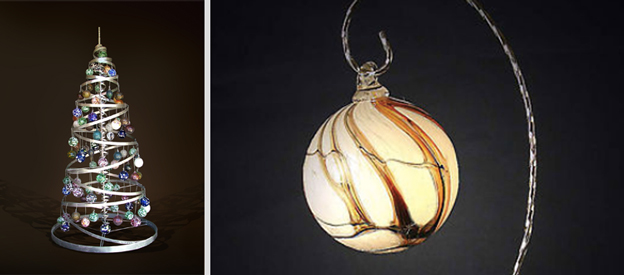 Vetro is holding a raffle for 75 handblown ornaments, enough to fill your entire tree. Retail value for ornaments is $1,500! Call the studio now to purchase tickets at 817-251-1668. $20 for 1 ticket or $30 for 2 tickets. All entries need to be in by November 23 at 5pm, and the drawing is November 26 at 10am. Winner does not need to be present to win but must respond to email or call within 48 hours of being notified. Ornaments may be picked up at the studio or delivered for an additional charge. And, yes, the custom steel ribbon tree is available for sale!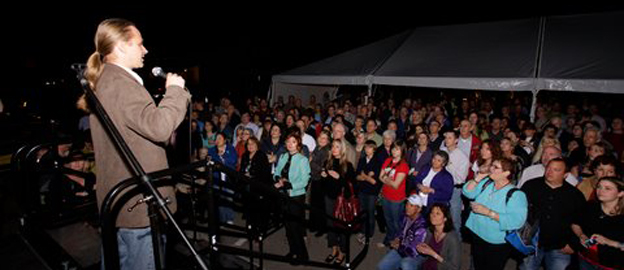 The "Glass on the Tracks" holiday party wouldn't be complete without the famous "Truth or Consequences" Auction. The Vetro artists, every now and then, are determined to find a home for certain pieces. And they believe that if someone is not willing to buy the piece, it doesn't deserve to live! What?! Here's how it works: Everyone puts their name in for a drawing. If your name is chosen, David Gappa asks you a question about Vetro. If you get the question correct, you get the piece…for free, no questions asked! However…If you get the question wrong, it is immediately held for ransom for exactly 30 seconds. The piece goes up for auction and is awarded to the highest bidder, IF the secret reserve price is met. What happens if the reserve price is not met? The piece is crushed in the Vetro glass guillotine. That's right…it dies. It's intense, it's wild and it's even a bit overwhelming for some. Come see if you "can take the heat"!
Listen here for a 60 second message about Glass on the Tracks!