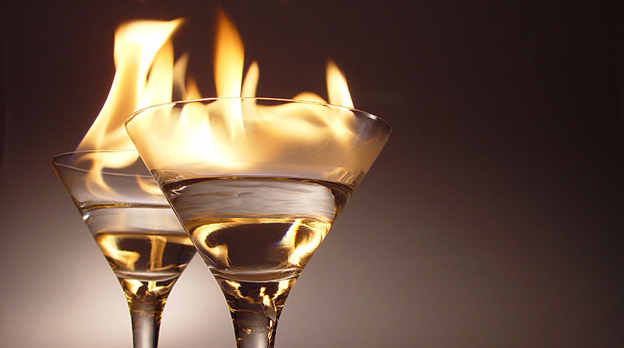 Flaming Cocktails & Extreme Ornament Details:
Just when you thought it couldn't get any better at Vetro Glassblowing Studio… We decided to take Extreme Ornament Blowout to the next level with Flaming Cocktails and Horsd'oevres.  For one day only, you can sign up to a dedicated time with one of our Glassblowers to Help Create your very own Christmas Ornament; while enjoying a couple of Flaming Cocktails to toast to the holiday season.   (reservations required)
You select colors from our entire color palette of glass
You apply the colors to the hot molten glass gather
You heat the colors in the 2,000 degree furnace
You stay by the artist while he/she blows out the ornament and adds a glass hook
$75 per person (Must be over 21 to participate)
Book online now  to reserve your time slot. "Extreme Flaming Blowout" is only available 4pm – 8pm on Dec 12, 2012.
Ornaments may be picked up the next business day after 3pm or shipped for an additional charge. Ornaments will not be available before 3pm the next business day.
Cancellation Policy:  if you need to cancel, we MUST be notified by 10am the day BEFORE your reservation. A Processing Fee of $5 will be deducted from your refund. Notify cancellation after 10am the day before. No-shows are non-refundable. Alcohol consumption is prohibited "during" your Glassblowing Experience; intoxicated customers will be cancelled without refund.
Vetro's parking lot becomes a Winter Wonderland during the month of December due to Grapevine's "North Pole Express". If you wish to "Help Make Your Own Ornament" or just browse through our Fine Art Glass Gallery for a "One-of-a-Kind Handblown Gift" please feel free to park behind the Studio on Hudgins Street or just across Main Street.
On the weekends during the North Pole Express, a shuttle service will also be available. Once you're in Grapevine just follow the signs to the parking areas. Free shuttles and parking are provided and run continuously from the Grapevine Convention Center to the North Pole Express.
Free Parking: Grapevine Library 1209 South Main Street Shuttle drops off at the North Pole Express
Additional parking may also be found at American Locker Group parking lot – 815 S. Main Street
For information on the North Pole Express, feel free to visit Grapevine's website for further information.