"EXTREME ORNAMENT MAKING BLOWOUT!"
Due to the overwhelming SUCCESS of Vetro's Extreme Ornament Experience in 2014 that goes beyond our Traditional Ornaments, we continue our Extreme Ornament Making Blowout! (Reservations required)
Price: $50 (plus tax) per ornament – Reservations Required Below

The Process:
• You select colors from our entire color palette of glass
• You apply the colors to the hot molten glass gather
• You heat the colors in the 2,000 degree furnace (14+ yrs)
• You stay by the artist while he/she blows out the ornament and adds a glass hook
Watch the video below and see how you can be a part of the "World of Glassblowing"
Click on the date of your choice to register!!!

EXTREME
November:
December:
Book online NOW to reserve your time slot ABOVE. (Reservations required)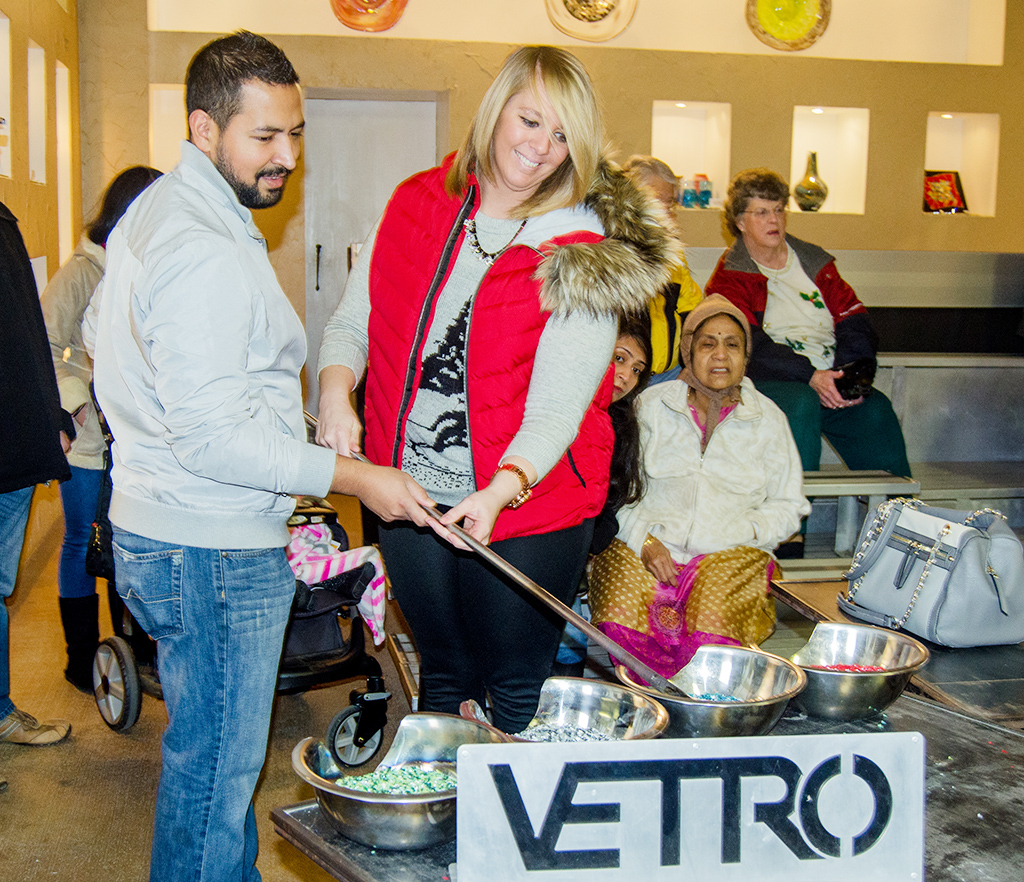 Please Note:
• Ornaments may be picked up the next business day after 3pm or shipped for an additional charge. Ornaments will not be available until 3pm the next business day.
• Due to the nature of glass, there is a possibility that your glass art piece could break or crack during the cooling process. If this happens, one of the gallery employees will call with two different options: (1) one of our glassblowers can re-make the glass art piece and you can pick it up or have it shipped (for an additional fee); (2) you can schedule a time to come back to the Vetro Studio and re-make your art piece!
• Kids of all ages are welcome to observe but must be 14 years of age or older for Extreme Ornament Making process.
• Any person under 18 must be accompanied by a parent or legal guardian.
What to Bring/Wear to your Help-Create: (Very Important)
• All clothing must be cotton
• Long pants encouraged but not required
• Closed-tipped shoes (i.e. tennis shoes)
• Cotton shirt – no billowy sleeves
• Hat or headband
• Sunglasses
• Long hair should be pulled back securely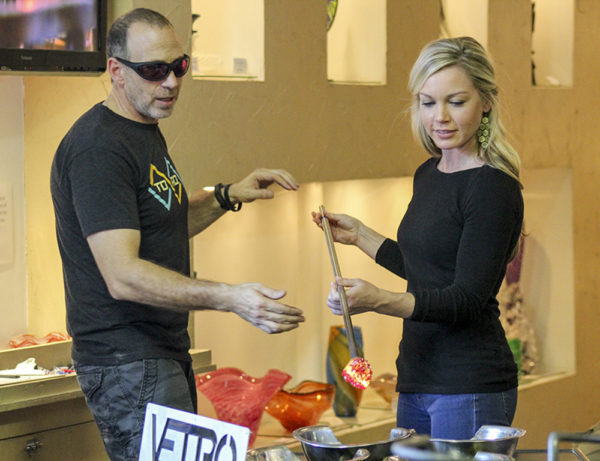 Holiday Hours:
Vetro Glassblowing Studio & Gallery will be CLOSED on the following days and times:
• Studio & Gallery closes at 1pm Thursday, December 24 (Christmas Eve)
• Friday, December 25 (Christmas Day)
• Saturday, December 26
• Sunday, December 27
• Monday, December 28
Cancellation policy:
Should you need to cancel or reschedule, a processing fee of $5 will be deducted from your refund.  If you fail to notify us before 10am the day BEFORE your reservation, your payment will be non-refundable.  We will NOT be able to reschedule nor provide a refund for no-shows.  Alcohol consumption is prohibited during your appointment; intoxicated customers will be canceled without refund.
Your ornament will need about 24 hours to cool to room temperature. You may return on the following business day after 3pm to pick it up or you may elect to conveniently have us ship your ornament to you (additional charge). Ornaments will not be ready before 3pm the following day.
Not the "Extreme" type? That's OK! View our HELP CREATE "TRADITIONAL ORNAMENT"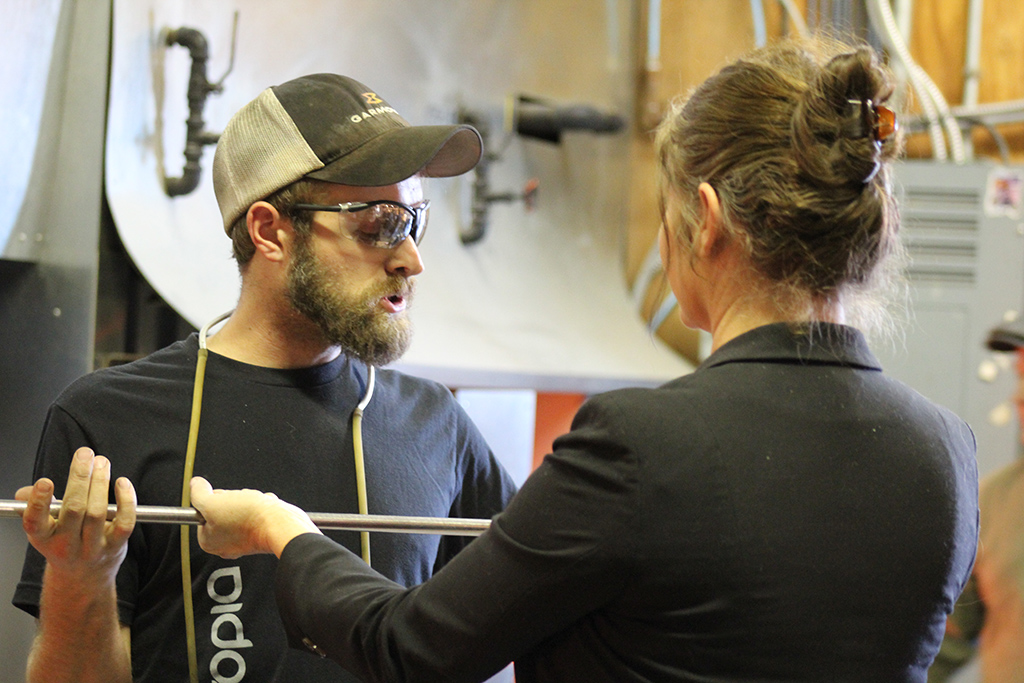 Bring the whole family to the Vetro Studio for a fun and unique experience. Our Ornament Help-Creates are great photo opportunities where memories and traditions are made! Details Below!
TRADITIONAL ORNAMENT EXPERIENCE!  Traditional has no reserva
first
tions, first

come first serve!



No reservations taken (first come, first served).  All details, hours, and video footage are in Events Calendar – click here.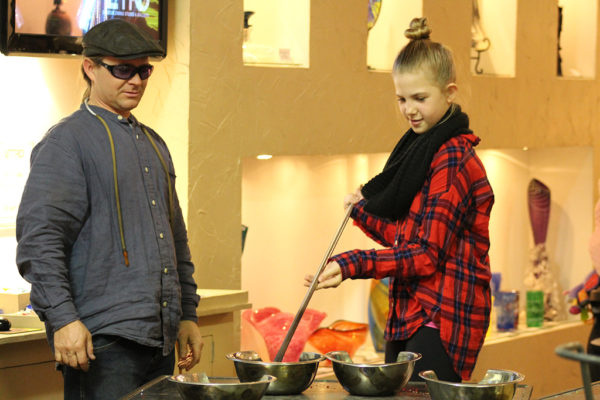 PARKING:
Vetro's parking lot becomes a Winter Wonderland during the month of December due to Grapevine's "North Pole Express". If you wish to "Help Make Your Own Ornament" or just browse through the Fine Art Glass Gallery for that "One-of-a-Kind Hand-blown Gift", feel free to park behind the Studio on Hudgins Street, or just across Main Street.
On the weekends during the North Pole Express, a shuttle service will also be available. Once in Grapevine follow the signs to parking areas. Free shuttles run continuously from the free parking at the Grapevine Convention Center to the North Pole Express.
Free Parking:
Grapevine Library 1209 South Main Street Shuttle drops off at the North Pole Express
Additional parking may also be found at American Locker Group parking lot – 815 S. Main Street
For information on the North Pole Express, feel free to visit Grapevine's Website for further information.
> Click here to view Extended Holiday Hours for shopping in the Gallery
*Park directly behind the gallery and glassblowing studio on Hudgins Street under the Glassblowing Sign
Parking with Free Shuttles provided at this location:
Grapevine Public Library
1201 Municipal Way
Grapevine, Texas 76051
*Designated Parking area is to the east of the reserved Library patron parking.
Parking without Shuttle provided at these (2) locations:
1) 815 S. Main St (corner of Main Street & Dallas Road)
2) 400 W. Dallas Rd (across the street from the Police Department)
Handicap Parking is available at these locations:
1) 814 S. Main St., Chill Sports Bar & Grill
2) 815 S. Main St., corner of Main Street and Dallas Road